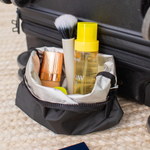 Stay Dry in Style: Introducing Our Splash-Proof Bag Made of Tyvek
When it comes to protecting our precious belongings from the elements, especially water, a reliable and stylish solution is a must. That's where our new Splash-Proof Bag comes into play, providing the perfect blend of functionality and fashion to keep your essentials safe and dry.
Unmatched Durability with Tyvek
Crafted from the renowned material, Tyvek, our Splash-Proof Bag is engineered for superior durability. Tyvek is not your average fabric—it's a synthetic material made of high-density polyethylene fibers that are fused together. The result is a tough, tear-resistant, and water-repellent material that can withstand the challenges of daily use.
Versatile Design for Various Needs
One of the most striking features of our Splash-Proof Bag is its versatility. This bag isn't limited to one purpose; it's designed to accommodate a variety of items, making it an essential accessory for every occasion. Whether you're heading to the beach with wet bathing suits, organizing your makeup collection, or stowing away chargers and cords, this bag has you covered.
Splash-Proof: Your Ultimate Travel Companion
Traveling can sometimes mean unpredictable weather and unexpected spills. With our Splash-Proof Bag by your side, you can bid adieu to the worries of water damage. Its splash-proof nature ensures that your belongings remain safe from accidental splashes, light rain, and damp environments. So, whether you're exploring a new city or simply commuting to work, your valuables will be shielded from the elements.
Eco-Friendly Choice
Beyond its functionality and style, our Splash-Proof Bag is also an eco-friendly choice. Tyvek is known for its sustainability, as it's fully recyclable and requires significantly less energy to produce compared to traditional fabrics. By choosing this bag, you're not only investing in quality but also contributing to a greener planet.
Conclusion
In a world where we're always on the move and our belongings need reliable protection, the Splash-Proof Bag shines as the ultimate solution. With its durable Tyvek construction, versatile design, and eco-friendly qualities, it's a statement piece that seamlessly blends practicality and fashion. Don't let unexpected splashes or rain showers dampen your day—choose the Splash-Proof Bag and stay dry in style.